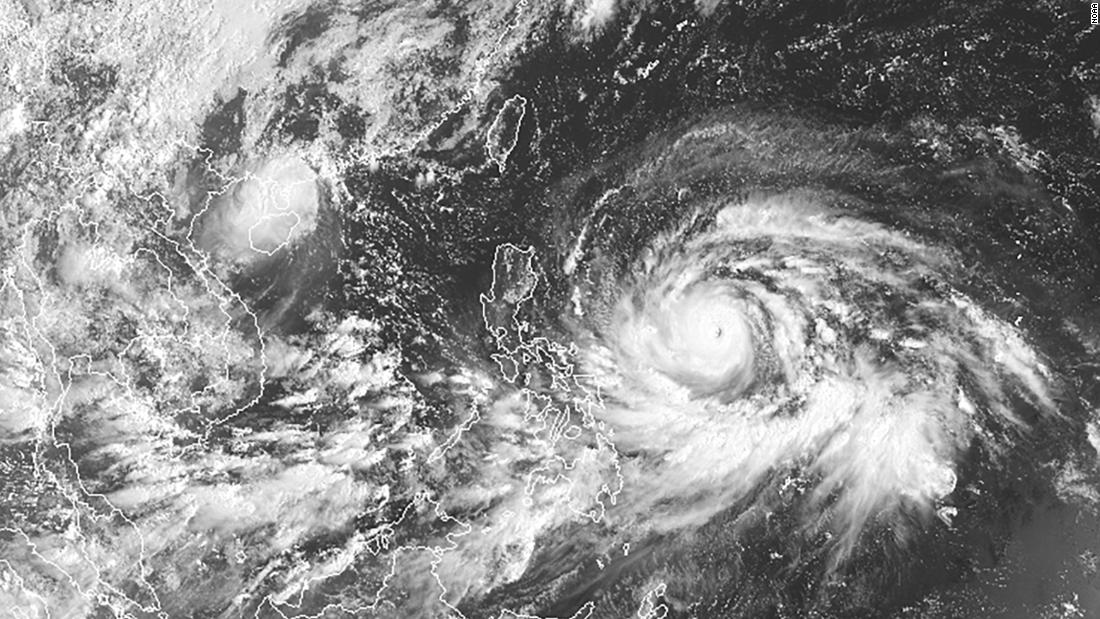 Known locally as Ompong, Mangkhut is lashing the northern parts of Luzon Island as it heads west into the South China Sea and toward Hong Kong and southern China.
Mangkhut made landfall in far northeastern Luzon in Cagayan province about 2:30 a.m. local time Saturday. It has maximum sustained winds of 270 kilometers per hour (165 mph), with gusts as high as 325 kilometers per hour (200 mph), the equivalent of a
Category 5 hurricane
.
"All things being equal, Mangkhut is a bigger, stronger and more dangerous storm" than Hurricane Florence,
a Category 1 storm
battering the US Southeast coast, CNN meteorologist Brandon Miller said. "Any land hit directly would see more significant and destructive impacts from the super typhoon due to its size and intensity."
An estimated 5.2 million people are within 125 kilometers (77 miles) of the projected path of the Super Typhoon, according to the National Disaster Risk Reduction and Management Council.
The agency warned of storm surges up to 19 feet along the Cagayan and Isabela province coastlines.
Most of the rest of the island is under Signal No. 3, meaning it can expect winds of up to 100 kilometers per hour (62 mph) and significant risk to trees, crops and structures. Parts of the island are also at risk of flooding due to heavy rains.
"We are bracing for the worst here," said Lanelyn Carrillo, a spokeswoman for World Vision, a humanitarian organization. "There is a sense of fear that we might be facing a storm as bad as Haiyan or Haima."
As of Friday morning, 2,298 families had been pre-emptively evacuated from their homes in Ilocos, Cagayan Valley and Cordillera administrative regions in northern Luzon.
Gov. Bojie Dy reports more than 5,000 people have been evacuated from coastal areas in Isabela province.
"We're worried for the 10 million people in the Philippines living in the path of this destructive storm, including those who have been displaced several times due to the monsoon rains last July and August," Richard Gordon, chairman of the Philippines Red Cross, said in a statement. "We are preparing our emergency assets and relief items. Our staff and volunteers are on high alert for possible deployment."
Once it passes over the Philippines, Mangkhut will continue west through the Luzon Strait into the South China Sea, making expected landfall early Sunday in southern China.
The Hong Kong Observatory said it is still
likely
to be at super-typhoon level as it nears that city and Macau, bringing with it winds of up to 195 kilometers per hour (120 mph), equivalent to a Category 3 hurricane.
Officials in Hong Kong held emergency meetings Friday, and residents in low-lying areas and outlying islands have been
urged
to move to temporary shelters.
Macau's Meteorological and Geophysical Bureau
warned
that Manghkut would "pose a serious threat" to the Pearl River Delta, where the city is located.
Last year, 10 people died in Macau as a result of Typhoon Hato, the strongest storm to hit the city in more than five decades. It caused widespread flooding and damage to property.